Description
ZOOM B6 FOR BASS PLAYERS ONLY
With four DI models and advanced multi-effects, the Zoom B6 gives you the freedom to explore entirely new sounds.
SUPER-FAT BOTTOM END
Our new analog circuit, combined with the DI section vastly improves the low frequencies of your instrument.
SUPER-FINE TOP END
With an 88.2 kHz effects processor, double the rate of others, the B6 has your high-end covered.
FOUR ICONIC DI MODELS
We meticulously modeled four iconic DI boxes to give you a wide variety of tonal options.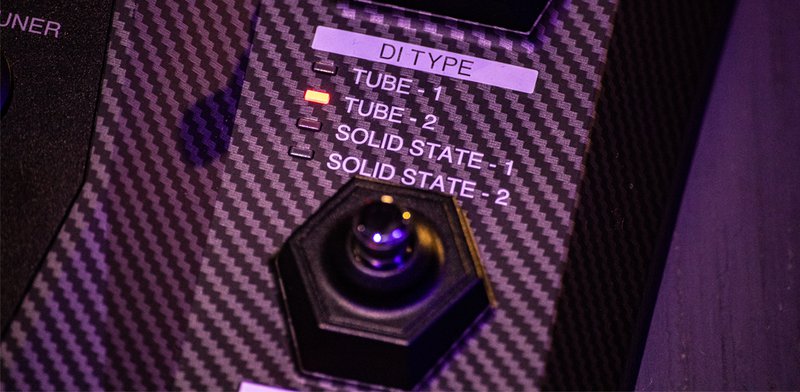 Tube 1 Vacuum tube DI character with rich harmonics and thick low frequencies.
Tube 2 Vacuum tube DI character with a clear attack and tight low frequencies.
Solid State 1 Delivers moderate compression and sharp tones for electric bass while protecting against the loss of low frequencies when playing an upright bass with piezo pick-ups.
Solid State 2 Solid state DI character with a clear tone and little distortion.
BUILT FOR YOUR SIGNIFICANT OTHER
Separate inputs allow you to A/B switch from electric bass to synth or acoustic bass, and back again.
Both inputs let you change the impedance from 1M to 10M ohms, giving you a cleaner tone for upright basses equipped with piezo pickups.

DETAILED AMP MODELING
The B6 features 11 of the best amp models in history, plus a couple of new ones.
BUILD YOUR STACK
The B6 provides simulations of 12 classic bass cabinets, each with three variations based on mic positioning.
LEGENDARY ZOOM SOUND
The B6 also delivers the ultimate collection of Zoom's legendary effects, along with 10 new ones.
JUST THE RIGHT TOUCH
The 4.3-inch color touchscreen lets you drag, drop and rearrange effects to build the perfect signal chain in seconds.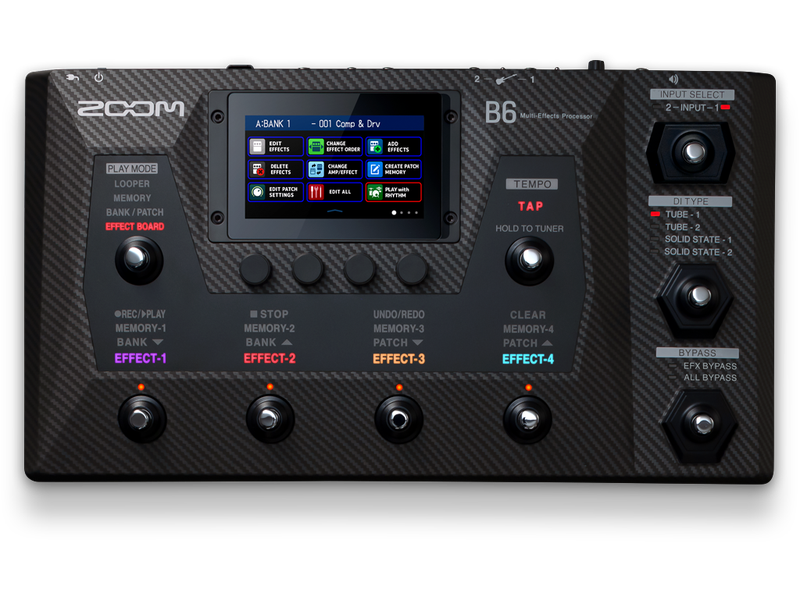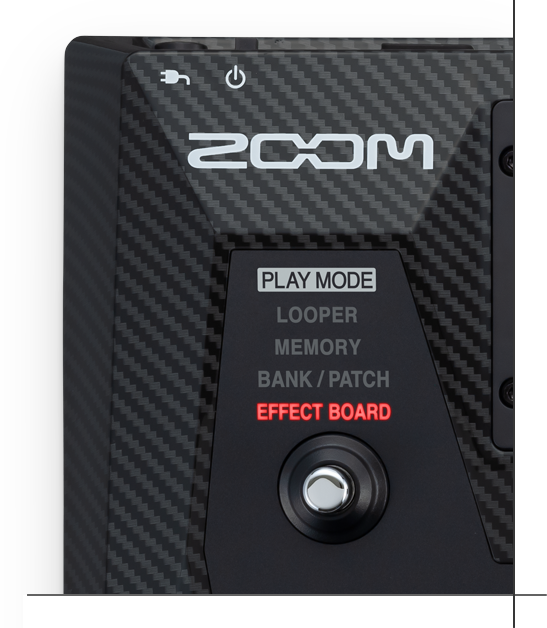 PLAY MODES
The four Play Modes on the B6 will change the touchscreen and footswitch layout to give you quick access to the controls you need.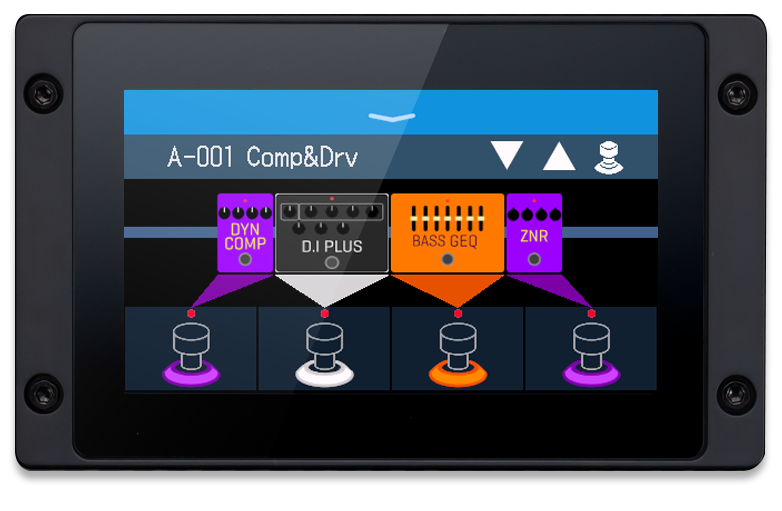 Effect Board
This mode provides a visual representation of your pedal chain. By clicking the assigned foot switch, you can turn on or off an effect in your patch.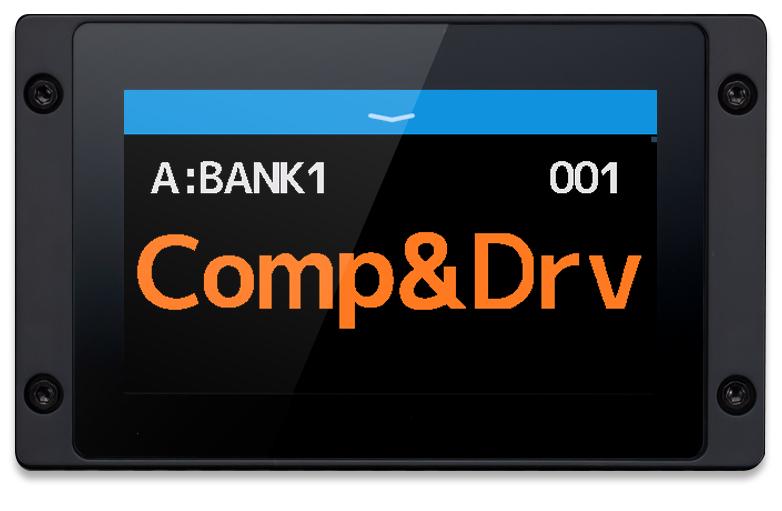 Bank/Patch
This mode lets you scroll up and down through your Banks and Patches by clicking the corresponding foot switch.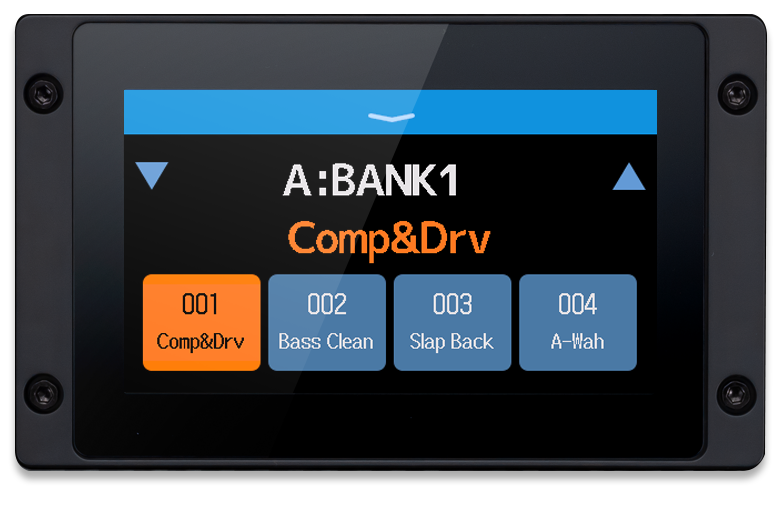 Memory
Ideal for organizing your patches for performances, the Memory Mode allows the foot switches to activate one of the 4 patches in each bank.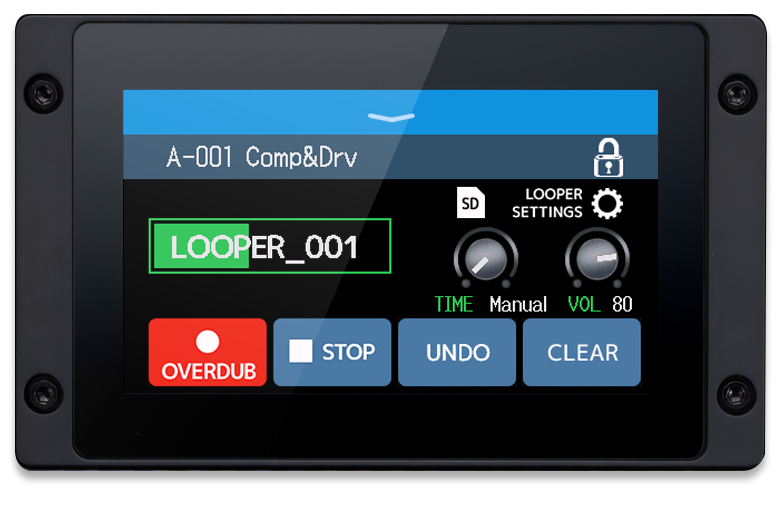 Looper
Use the Looper to add layers to your sound.
LOOP, RECORD, REPEAT
Create loops and recordings up to two hours long, saved directly to an SD/SDXC card for instant access and recall.
*45-second looper without SD card.
BACK BEAT
Select from the B6's 68 rhythm patterns in a range of styles, tempos and time signatures.
RECORD VIA USB
Connect to your computer via the micro-USB port to record directly to your DAW.
HANDY GUITAR LAB FOR B6 APP
Connect the B6 directly to the Handy Guitar Lab for B6 app via Bluetooth. Using the optional BTA-1 adaptor, wirelessly connect your iPhone or iPad as a secondary interface for your B6.
LET'S MOVE FORWARD TOGETHER.
Accessibility for the Visually Impaired
The first multi-effects processor that allows accessibility for the visually impaired, the Handy Guitar Lab for B6 app features VoiceOver and VoiceOver Gestures.
Here's what comes included with the B6:
B6 Multi-Effects Processor
Zoom AD-16 AC Adapter
Quick Tour
Steinberg Cubase LE Software
Optional accessories:
FP02M expression pedal
BTA-1 Bluetooth Adapter