Description
If you're a guitarist, you know how important it is to have the freedom and flexibility to create your own sound. The Zoom G3Xn Multi-Effects Processor removes any barriers in your way.
The G3Xn is a genre-defying multi-effects processor that gives you the versatility you need to experiment with new sounds and playing styles. Its built-in expression pedal, 80 second Looper, faithful amp and cabinet emulators, and extensive selection of effects and patches make it an essential addition to any pedalboard. With the G3Xn, breaking boundaries and achieving great sound has never been easier.
G-Series Multi-Effects Processors for Guitarists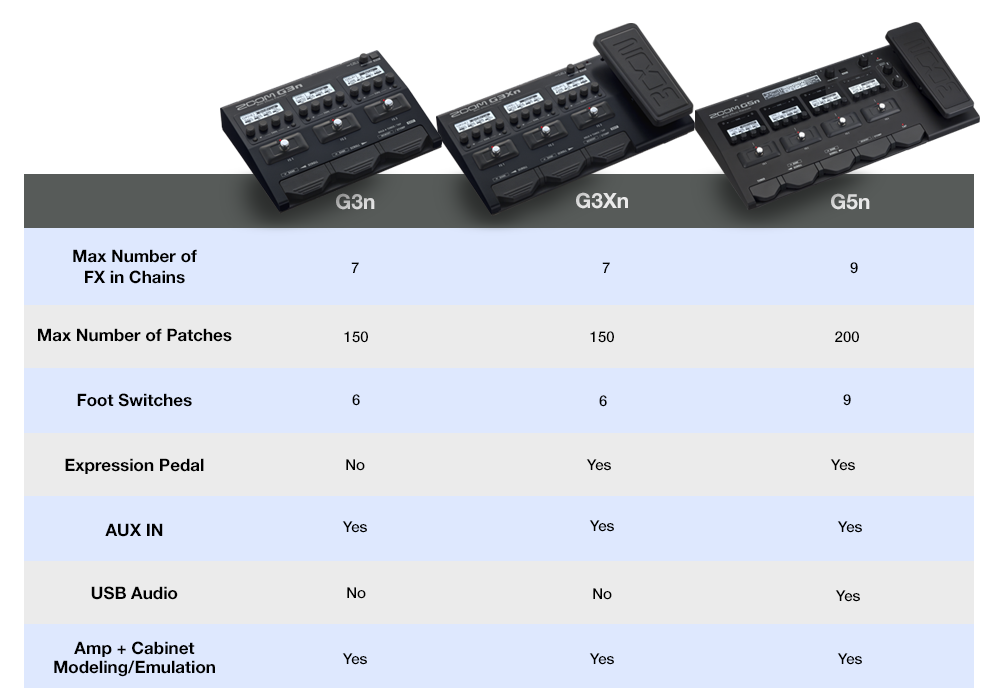 Accurate, Realistic Amp and Cabinet Emulation
Choose from five classic amp models and adjust the sound exactly as you would with the knobs and switches of the real thing—and then pair your amp with one of the five new cabinet emulators to complete the sound.

5 Custom-Crafted Patches and Counting
Recreate essential guitar tones and pioneer new territory with 75 custom-designed patches created exclusively by Zoom guitarists. Use these patches to emulate the iconic sounds of Eddie Van Halen, Jimi Hendrix, Jimmy Page, Carlos Santana, Michael Schenker, and Brian May or explore something completely brand new.
With our free ZOOM Guitar Lab software, you can look for new effects and amp/cabinet emulators, and add new, exclusive patches from our diverse and growing list of creators, including:
Kyle Bolden (Stevie Wonder)
Eric Struthers (Aaron Neville)
Allen Epley (The Life and Times, Shiner)
Richard Patrick (Filter)
Jeff Schroeder (Smashing Pumpkins)
Andrew Elstner (Torche, Tilts, Riddle of Steel)
Christophe Godin (Mörglbl)
Luca Colombo
Vinny Valentino (Steve Smith & Vital Information)
Kiko Loureiro (Megadeth)
Tommy Bolan (NYC, Banzai, Warlock)
Ozielzinho
Errol Cooney (Christina Aguilera, Stevie Wonder)
Wes Geer (Korn, hed PE)
Adam Hawley (Joss Stone)
Chuck Loeb (Fourplay)
Dan Spack (Volcano Choir)
Craig Wedren (Shudder To Think)
Inputs and Outputs
The G3Xn can be easily integrated into any live performance or studio rig. In addition to a standard guitar input, there's an auxiliary stereo input for connecting smartphones or music players. It also includes a headphone jack for practice and dual outputs for mono or stereo L/R connection to guitar amps, PA systems, and audio interfaces.
The Mic On/Off feature lets you optimize the G3Xn for use with a real amp and cabinet (Mic Off) as well as optimize for playing through a PA system or recording direct with amp and cabinet emulators (Mic On).
Features At A Glance
70 (68 effects, 1 looper pedal, and 1 rhythm pedal) onboard
high-quality digital effects, including distortion, overdrive,
EQ, compression, delay, reverb, flanging, phasing, and chorusing
5 new amp emulators plus 5 cabinet emulators
75 custom-designed factory patches
Free ZOOM Guitar Lab Mac/Windows software allows
downloading of additional effects and patches
Use up to 7 effects simultaneously, chained together in
any order
3 stompbox switches allow effects to instantly be brought
in and out
Intuitive user interface
3 independent editing displays
Auto Save function for automatic saving of all patch parameters
Onboard chromatic tuner with dedicated footswitch supports
all standard guitar tunings, including open and drop tunings
Tuner range of 435 – 445 Hz
Stereo/mono Looper allows recording of up to 80 seconds of
phrase recording
68 built-in rhythm patterns that can be used in conjunction
with the Looper
Tap Tempo with dedicated footswitch
Input jack accepts standard guitar cable
Auxiliary stereo input jack for connection of smartphones
and music players
Dual output jacks for connection to guitar amps and mono
or stereo PA systems
Stereo headphone output
Included AC adapter
Accessories
Here's what comes included with the G3Xn:
Operation manual
Zoom AD-16 AC adapter