Description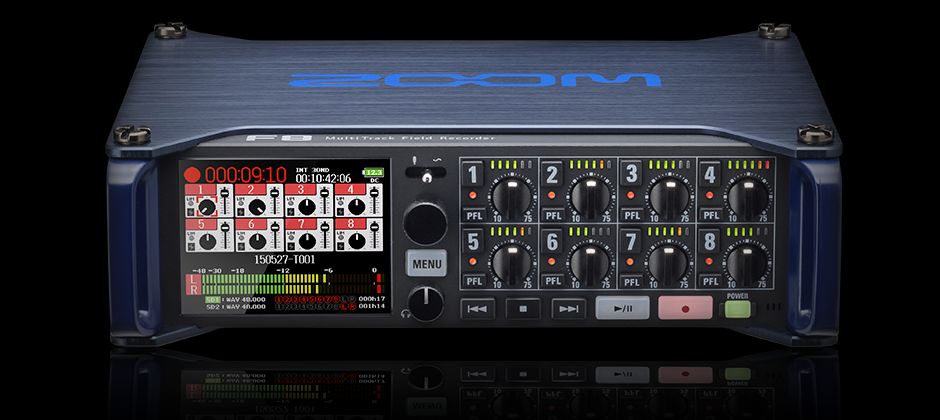 THE ZOOM F8 
For Filmmaking and Sound Design
Advances in video have made filmmaking accessible to creators everywhere. But the accessibility of professional audio devices has not kept pace. Field recorders, with essential features such as time code, have been unobtainable for most. Until now.
The F8 is made for serious filmmakers and sound designers.
With 8-input/10-track recording, super low-noise preamps, and support for 24-bit/192kHz audio, the F8 captures the highest-quality audio.
The Facts
Mic pre's
Outfitted with our finest mic preamps to date, the F8 features an extremely low noise floor (−127 dBu EIN) and high gain (up to 75 dB), with +4 dB line inputs.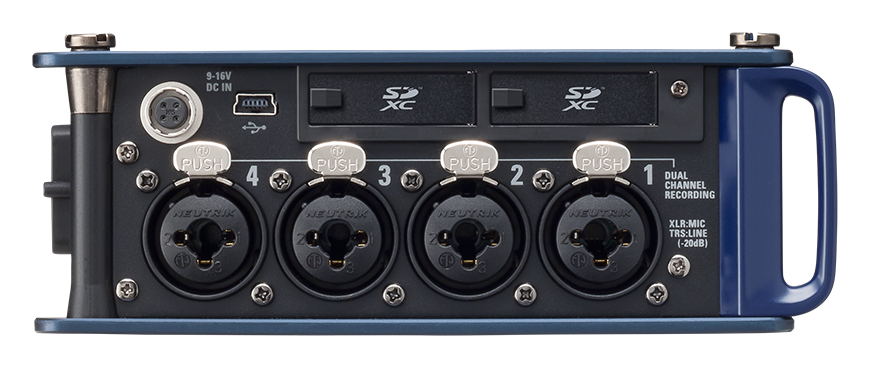 High-resolution audio and advanced limiters
The F8 can record at 24-bit/192 kHz resolution and is equipped with onboard limiters designed to provide overload protection. Limiting can be applied to all 8 channels simultaneously at full resolution, with 10dB of headroom and controls for setting threshold, attack, and release.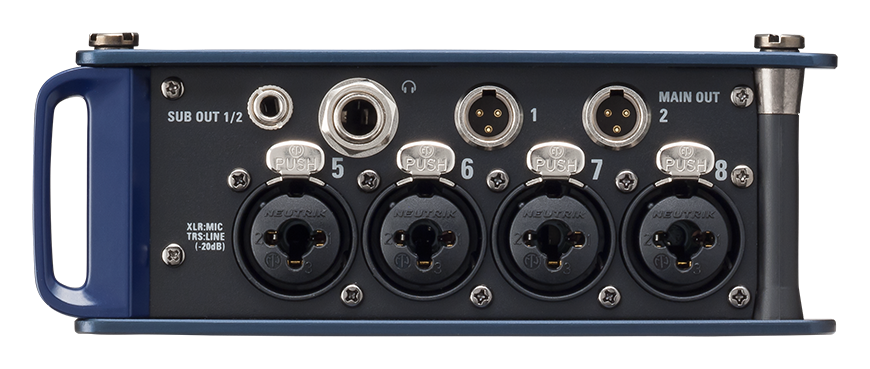 Time code with pinpoint accuracy
The F8's time code is state-of-the-art. It utilizes a precision oscillator that generates time code at 0.2 ppm accuracy, enabling rock solid syncing of audio and video.
The F8 supports all standard dropframe and non-drop formats, and can jam sync to time code being provided by external devices. An input and output are provided on standard BNC connectors, enabling easy integration into any rig.


Weight and build
The F8 is not only versatile and feature rich, it is the smallest field recorder with eight XLR combo inputs ever made. Weighing just 2.1 pounds (without batteries), its aluminum chassis is both rugged and durable.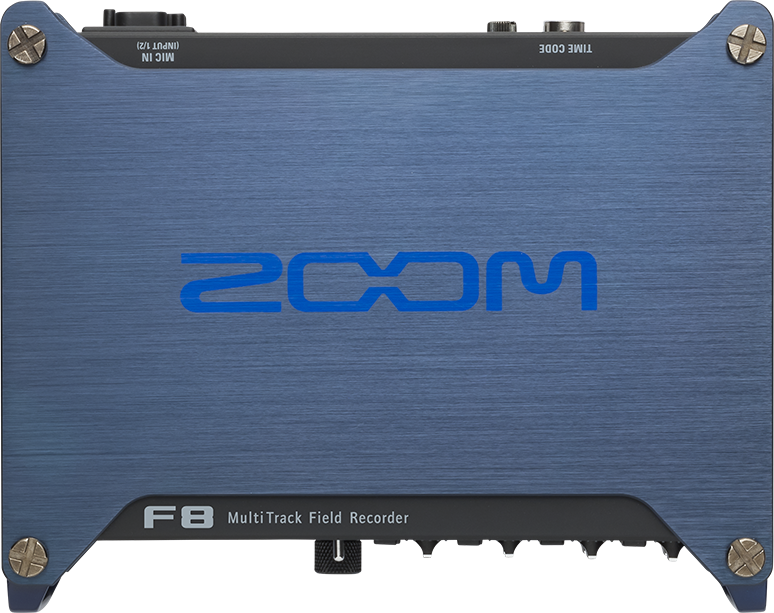 Display
Sound professionals sometimes work in dusty, hard-to-see environments. Level meters with adjustable brightness and its 2.4 inch full-color backlit LCD (which can be set to monochrome mode), make the F8 easy to use in any environment — from low-light to direct sunlight.
File formats, resolution, and sample rates
The F8 records in BWF-compatible WAV format at 16 or 24-bit resolution, and at any standard sample rate up to 192 kHz. When recording files in MP3 format, you can choose bit rates of 128, 192, or 320 kbps.
The Features
The F8 provides every option you need to create professional field recordings:
Phantom power (+24V/+48V) can be turned on and off for each input individually.
Plug in any Zoom mic capsule.
10 tracks—8 input channels, plus a stereo mix track*—allow you to simultaneously record stereo and surround sound.
An onboard mixer with flexible routing of all inputs and outputs (pre- and post-fader). Each channel has controls for pan, input/output delay, filtering, and limiting.
The F8 can be mounted to a tripod and attached to your camera using the included mounting bracket.
* Stereo mix track not recorded when 192 kHz sampling rate is selected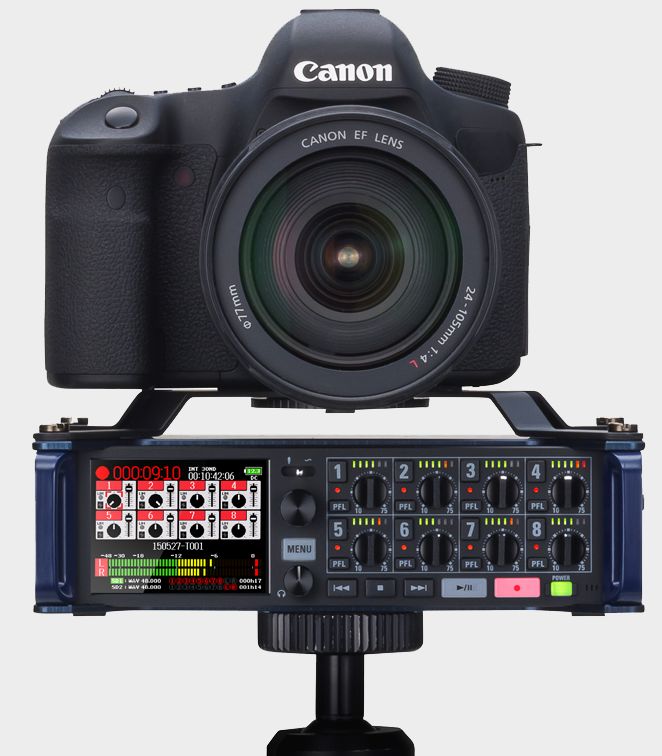 Redundancy is always good… Always.
Dual SD card recording
Record on two SD/SDHC/SDXC cards, up to 512 GB each, simultaneously, allowing you to instantly backup or split recordings (for example, save eight tracks onto one card and a stereo mix onto another).
Three power sources
A 4-pin Hirose connector allows the use of external 9-16 volt DC battery packs. Internal power is provided by 8 AA batteries. The F8 can switch power sources from a DC battery pack to the AA batteries at a user-defined voltage level for uninterrupted recording. You can also use the supplied 12 volt AC adapter when not on the go.
File protection
Files are saved periodically during recording. This provides an extra level of protection in the event of unexpected file interruption, for example, power loss or the removal of an SD card.
Dual-channel recording
The F8's dual-channel recording mode allows you to create safety tracks on inputs 1-4, each with independent level, limiting, delay, phase inversion, and high-pass filtering.
Pre-record
The pre-record function allows you to capture up to 6 seconds of audio before you hit the RECORD button.
The hardware
Inputs
The F8 provides 8 discrete inputs with locking Neutrik XLR/TRS combo connectors. Each input has a dedicated gain control knob, a 6-segment LED level meter, and Record Ready and PFL switch. A 10-pin connector on the rear panel enables the use of Zoom mic capsules, with an optional extension cable that allows for remote positioning. There's also a built-in slate mic and a variable frequency slate tone generator to confirm levels.
Outputs
In addition to its ¼" headphone jack with dedicated volume control, the F8 provides four outputs: two Main Outs (on balanced TA3 mini-XLR jacks) for connection to external mixers and processing devices; and two Sub Outs (on a single unbalanced ⅛" stereo mini-jack) for connection to a camera.
Time code and USB
Time code I/O is provided on BNC connectors. A USB port enables firmware updates, file transfer, and allows the F8 to be used as an 8-in/4-out USB audio interface operating at sample rates up to 96 kHz.
The software
The F8's menu is easy to navigate and has a simple file structure. Cataloging is straightforward, with extensive metadata (both BWF and iXML), which can be entered directly on the F8 or with the Zoom F8 Control App.
Onboard mixer
The F8's onboard mixer enables flexible signal routing from all inputs to all outputs, either pre- or post-fader, with user-adjustable level, pan, and input/output delay. In addition to advanced onboard limiters (which can be applied to all channels and tracks simultaneously), the F8 also provides high-pass filtering to reduce the sound of wind and other noise, plus phase inversion and Mid-Side decoding.
Features at a glance
8-channel/10-track field audio recorder/mixer
8 discrete inputs with locking Neutrik XLR/TRS combo connectors
Compact and lightweight aluminum chassis, weighing just 2 pounds (without batteries)
High quality mic preamps with up to 75 dB gain, less than -127 dBu EIN, and +4 dB line inputs
Support for up to 24-bit/192 kHz recording as well as 96 kHz, 88.2 kHz, 48 kHz, and 44.1 kHz, plus 47.952 kHz/48.048 kHz for HD video compatibility; 16-/24-bit resolution
Accurate Time Code (0.2 ppm) I/O on standard BNC connectors; dropframe/non-drop formats with Jam Sync
Three different power supply options: 8x AA batteries, external DC battery pack with Hirose connector, or 12V AC adapter (AA's and DC battery pack not included)
Automatic switching of power source from DC to batteries at user-defined voltage levels
Dedicated gain control knob, 6-segment LED level meter, and PFL/Solo switch for each channel
Phantom power (+48V/+24V) on every input
Advanced onboard limiters for input and output
High pass filter, phase invert, and Mid-Side decoder
Input delay of up to 30 msec per channel / output delay of up to 10 frames per output
Compatible with Zoom microphone capsules; optional extender cable enables remote positioning
Dual mini-XLR (TA3) balanced Main Outs plus ⅛" stereo mini-jack Sub Out
Dedicated headphone output (100mW) with front panel volume control
2.4″ full-color backlit LCD with monochrome mode
Dedicated PFL display with viewable trim settings
Dual SD/SDHC/SDXC card slots, up to 512 GB each
Records in BWF-compliant WAV or MP3 file formats
Support for extensive metadata (BWF and iXML); input time, date, project, scene number, etc.
Built-in slate mic/slate tone with front panel switch
Built-in tripod mount; camera mount adapter also included
Use as an 8-in/4-out USB audio interface (@ 96 kHz)
Free Zoom F8 Control App for iOS allows wireless remote control, file renaming, and metadata entry